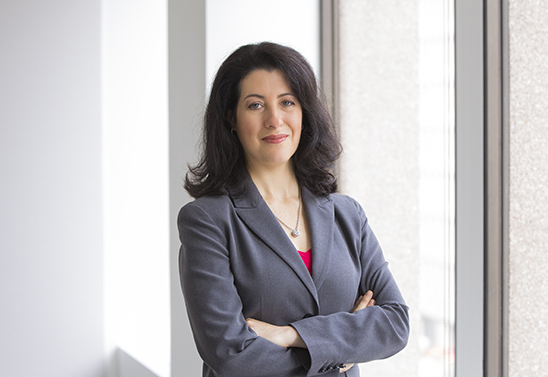 Clients value Robin as a "business-minded" and practical leader, who can manage large projects on a tight deadline. In addition to her practice, she is an adjunct professor at Georgetown University Law Center, where she teaches Retirement Plan Qualification Requirements.
Profile
Robin helps employers successfully design and administer retirement plans, health & welfare benefits, and executive compensation arrangements. She has more than 20 years of experience developing practical solutions to complex employee benefit problems.
Robin advises Fortune 500 publicly-traded companies, closely held businesses, and tax-exempt organizations on a broad range of benefit and compensation issues. She has extensive experience with the design and administration of tax-qualified pension and 401(k) plans, and she routinely advises plan benefit committees on their fiduciary obligations. Robin possesses a particular aptitude for counseling clients on workforce and benefits integration following an acquisition, and she is experienced with the unique problems faced by large controlled groups. Robin has been individually recognized by Chambers & Partners for Employee Benefits & Executive Compensation.
In her spare time, Robin can be found growing asparagus, watching Netflix, and shoe shopping at Nordstrom.
Education
Harvard Law School, 1996, J.D.
Stanford University, 1993, B.A.
Oxford University, Balliol College
Bar & Court Admissions
District of Columbia
Maryland
New York
Clerkships
Law Clerk for the Honorable Benson Everett Legg, U.S. District Court for the District of Maryland
Academic Appointments
Adjunct Professor, Graduate Tax Program, Georgetown University Law Center (Teaching "Retirement Plan Qualification Requirements")
Memberships & Affiliations
D.C. Bar Association, Tax Section, Employee Benefits Committee
American Bar Association, Section of Taxation
Honors & Awards
Chambers & Partners USA 2020 Guide
Best Lawyers 2020-2021
Washington, DC Super Lawyers 2018- 2020
Experience
Representative Matters
Pension Plans
Pension Plan Split – Advised a public utility company on the design and spinoff of a $5B pension plan into separate active and inactive plans, each with multiple sub-components representing varied benefit formulas.
Joint Venture – Advised on the transfer of six pension plans to joint venture partner, a $25B oil and gas company.
M&A – Assisted with design and implementation of new benefits program for a $3B subsidiary power company sold to a private equity firm. This included preparation of all plan documents, participant communications, and committee materials, as well as negotiation of benefit vendor contracts.
Lump Sum Offer – Advised an aerospace company on a voluntary lump sum offer to 40,000 former employees, followed by a second lump sum offer made under ten pension plans simultaneously, in an effort to reduce the company's $68 billion pension liability.
Plan Funding – Advised pension plan sponsors on funding strategies, including the contribution of employer securities, real property, and other assets.
Plan Freeze – Counseled one of the nation's largest defense contractors on the transition from DB to DC plan benefits, including all associated ERISA and tax qualification issues such as nondiscrimination testing and disclosure obligations. This included the soft freeze of ten pension plans, followed by the hard freeze of plans covering 68,000 nonunion employees and 33,000 union employees.
Cash Balance – Obtained a favorable IRS determination letter on one of the nation's largest cash balance plans ($50B) – a process that took nearly ten years. Deflected IRS criticism and developed an alternative strategy that left the plan design virtually intact.
Operational Corrections – Secured IRS approval of complex operational corrections for numerous employers, often winning approval for unique methods of correction. Obtained full waiver of employer contributions for several overpayment corrections.
M&A – Drafted cash balance plan as new benefits platform for 100,000 participants, to integrate acquired subsidiaries of Fortune 50 company.
Compliance Review – Oversaw a comprehensive compliance review of six pension plans for a public utility company, to be completed within a 30-day period.
Vendor Contracts – Advised large and mid-sized clients in negotiating vendor agreements (e.g., trustee, record-keeper, investment manager).
Union Arbitration – Testified as an expert witness in union arbitration on behalf of industrial manufacturer.
Savings Plans
Plan Investments – Advised closely held retailer on the development of a proprietary environmental investment fund in its 401(k) plan, including fiduciary implications, committee obligations, and participant communications.
Roth Contributions – Advised a 401(k) plan with $45 billion in assets on the implementation of Roth 401(k) contributions and enhanced profit sharing contributions.
IRS Audit Defense – Successfully shepherded a privately held retailer through an IRS 401(k) plan audit in less than six months, with no changes requested or penalties imposed.
Plan Termination – Assisted with the termination of money purchase and PAYSOP plans, including development of a practical solution for handling missing participant accounts.
Fiduciary Training – Prepared and delivered fiduciary education programs for senior executives at multiple companies, including an outdoor clothing distributor, a public utility, and a $20 billion oil & gas company.
M&A – Integrated 20+ acquired savings plans into a single 401(k) plan ($40 billion) platform.
Corporate Governance – Developed investment committee charter, investment policy statement, and related governance documents for 401(k) plan benefits committee.
Operational Corrections – Advised oil & gas company on the correction of delinquent contributions, including remittance of excise taxes.
Plan Investments – Advised oil & gas company on changes to 401(k) plan investment line-up. Counselled closely-held "B" corporation on socially responsible investing.
Target Date Funds – Co-authored a white paper on custom target date funds for global investment manager. Quoted in Wall Street Journal on target date funds.
Health & Welfare Plans
ACA Compliance – Developed and rolled out an Affordable Care Act compliance strategy for numerous companies. Prepared participant communications; advised on ACA reporting.
Retiree Medical – Counseled large and mid-sized clients on retiree medical plan design, including transition from a traditional retiree medical plan to an HRA with private exchange. Advised on implementation of new early retiree medical program.
Vendor Contracts – Negotiated over a dozen health and welfare benefit vendor contracts for a water treatment company following acquisition by a foreign corporation (e.g., medical, life insurance, disability and leave programs).
Cafeteria Plans – Advised on operational corrections for FSA and HSA programs, including reporting and payroll implications.
M&A – Established new benefits platform for spunoff subsidiary of Fortune 100 company.
Claims and Appeals – Supported numerous clients with handling of claims and appeals. Developed claims procedures.
VEBAs – Counselled on tax-exempt status and obtained favorable IRS rulings. Advised on VEBA design and funding strategy. Assisted with correction of VEBA distribution errors and prohibited transactions.

HIPAA - Oversaw HIPAA implementation for a 120,000+ employee company that was simultaneously subject to other national security privacy constraints; developed HIPAA training materials, policies and procedures. Negotiated contractual language with plan vendors on behalf of numerous clients to protect the privacy of plan and participant data.
Executive Compensation
162(m) Compliance – Interpreted IRC 162(m) provisions following 2017 tax reform legislation, for multiple Fortune 100 companies, including a railroad, textile company, and retailer.
409A Compliance – Advised closely held company on the termination of nonqualified deferred compensation plan in compliance with IRC 409A, including executive communications and calculation of payout schedules.
Payroll Compliance – Advised mid-sized retailer on withholding methodology for annual bonus payments, taxation of post-severance payments, educational assistance, transit/parking benefits, and fringe benefits.
Exempt Organizations – Advised major metropolitan orchestra on design and implementation of 457(b) and 457(f) plans to compensate executives. Counselled on payroll and withholding issues for payments to artists.
News & Events
Speeches & Presentations
2019 Women, Influence & Power in Law Conference (WIPL), Washington DC, October 18, 2019. Lead Panelist.
Robin Solomon Gives Washington Update at PLANSPONSOR National Conference, June 20, 2019
Robin Solomon Presented on DB Funding Strategies at PLANSPONSOR Webinar, June 29, 2018
"Rules, Regulations and Other Factors Affecting DB Funding Strategies", speaker, Plan Sponsor National Conference, Washington DC, June 14, 2018
Surviving a DOL Audit

, Mid-Sized Retirement and Healthcare Plan Management Conference in New Orleans, LA, May 8, 2018. Presenter.

Retirement Savings: Update on Tax Reform, Administrative Programs and Guidance, Federal Bar Association Annual Tax Law Conference in Washington, D.C., January 11, 2018. Presenter.
Regulatory/Litigation Update, "Best of" Plan Sponsor National Conference (PSNC), Chicago IL program – October 24, 2017. Panelist.
Navigating and Surviving an IRS or DOL Audit of Your Benefit Plans, Women, Influence & Power in Law annual conference – October 12, 2017. Moderator.
Executive Compensation and Employment Tax Update, N. Florida Compensation & Benefits Association, Jacksonville, FL - May 25, 2017. Presenter with Ben Grosz.
Top Ten Plan Mistakes and How to Correct Them, MNCPA Audits of Employee Benefit Plans Conference, Minneapolis, MN - May 22, 2017. Speaker.
Top Tax Compliance Risks and Pitfalls In Executive Compensation and Employee Benefits, TEI New Jersey Chapter, Meadow Wood Manor (Randolph, NJ) - May 12, 2017. Speaker with Jodi Epstein.
Global Mobility of Employees: Practical Strategies, Tax Executives Institute, Research Triangle Park, Raleigh, NC - April 28, 2017. Speaker with Doug Andre.
Insights at 2016 Mid-Atlantic Healthcare & Retirement Plan Summit, Insights at 2016 Mid-Atlantic Healthcare & Retirement Plan Summit, Tysons, VA - September 20, 2016. Panelist with Benjamin Grosz.
Department of Labor Final Fiduciary Regulation, DC Bar, Washington DC - June 23, 2016. Speaker.
Top Employee Benefit Issues - TEI Pittsburgh Chapter, February 24, 2016. Speaker.
Live Webcast: Discussion of Key Developments in Health & Welfare Plan Administration, The Knowledge Group - October 22, 2015. Speaker with Spencer Walters.
Top Ten Tax Compliance Risks for 2016. TEI Salt Lake City Chapter - October 22, 2015: Speaker with Jeannie Leahy / Play or Pay Under the ACA: Strategies to Reduce Risk and Avoid Paying the IRS. Speaker: Robin Solomon / Leaving on a Jet Plane - and Related Fringe Benefit Issues. Speaker with Jeannie Leahy.
Affordable Care Act - Critical Issues for Tax Departments, Tax Executive Institute, Pittsburgh Chapter - October 7, 2015. Speaker.
Same Sex Marriage, American University Washington College of Law Founders Celebration, April 13, 2015. Speaker.